9 essential setting you need to setup after installing WordPress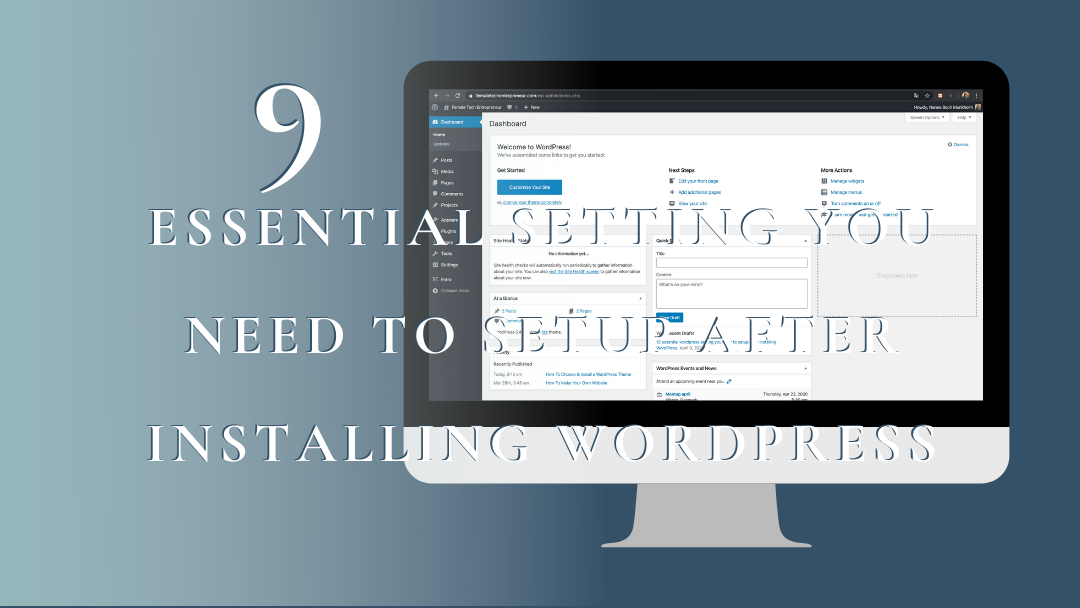 After installing Wordpress with your own domain name, there is a few steps you should take. These steps are essential to making your website work smoothly, being noticed by Google and tracking your performance. If you haven't installed WordPress yet, go to my previous post on How To Make Your Own Website. I will recommend that you already know what you website should be about and which colors and font you want to use. If not, then read my post on How to Choose & Install a WordPress Theme. 
You may just want to get starting on setting up you homepage, writing your first blogpost but safe yourself from the headaches to come and go through these simple 9 steps. They will make your life so much easier, so you can focus on the important part of making a beautiful informative website for your business.
What to do after installing WordPress? 
Change Site Title, Tagline, and Timezone
Setting WordPress Permalinks
Change The Default Category
Setup WordPress SEO
Install Google Analytics
Complete Your User Profile
Setup Your WordPress Theme
Upload Favicon and Site Icon
Delete Unused Themes and Content
Let's get your wordpress website set up, so you can kick ass with you business.
Change Site Title, Tagline, and Timezone 
After installing wordpress you first need to change the basic setting of your wordpress site, so it match you business profile. This include the Site Title and Tagline which will show up whenever you or a visitor share your website. Be sure that it is you main message that is written in your tagline.
Go to Setting > General here you will be able to change your site title and tagline. Further down the same page you can also change the time to fit your timezone.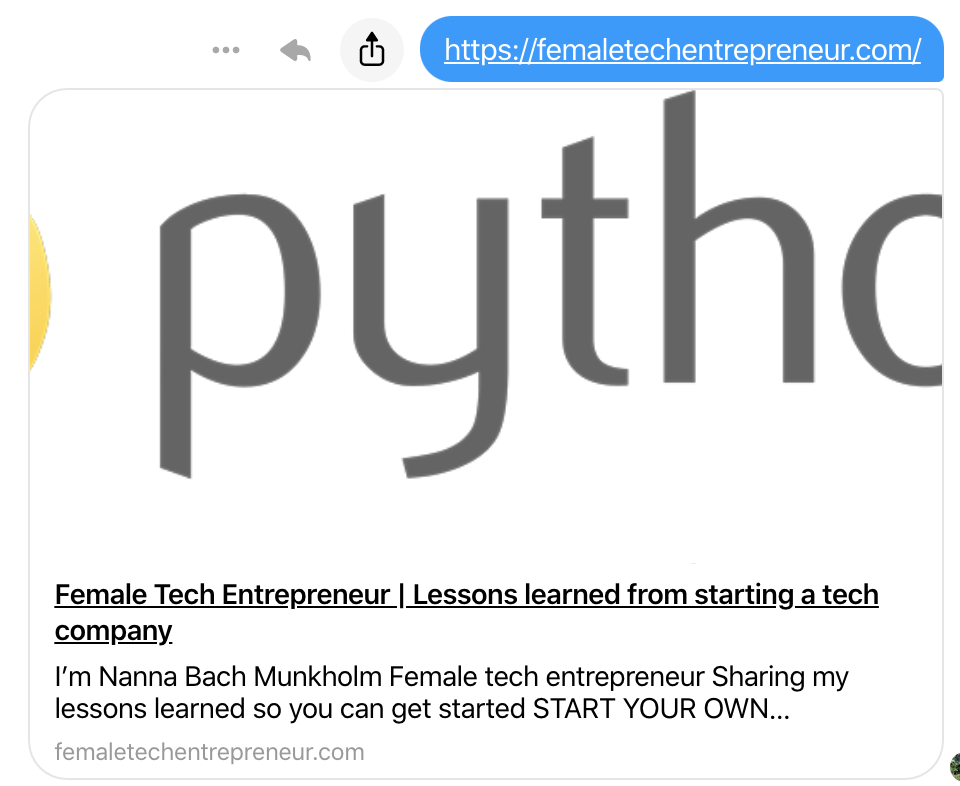 As you can see when I share my website, The Title is Female Tech Entrepreneur and the Tagline is Lessons learned from starting a tech company. The image doesn't match my brand, you can change the featured image on the right site when you edit your pages or post. I definitely have to do that!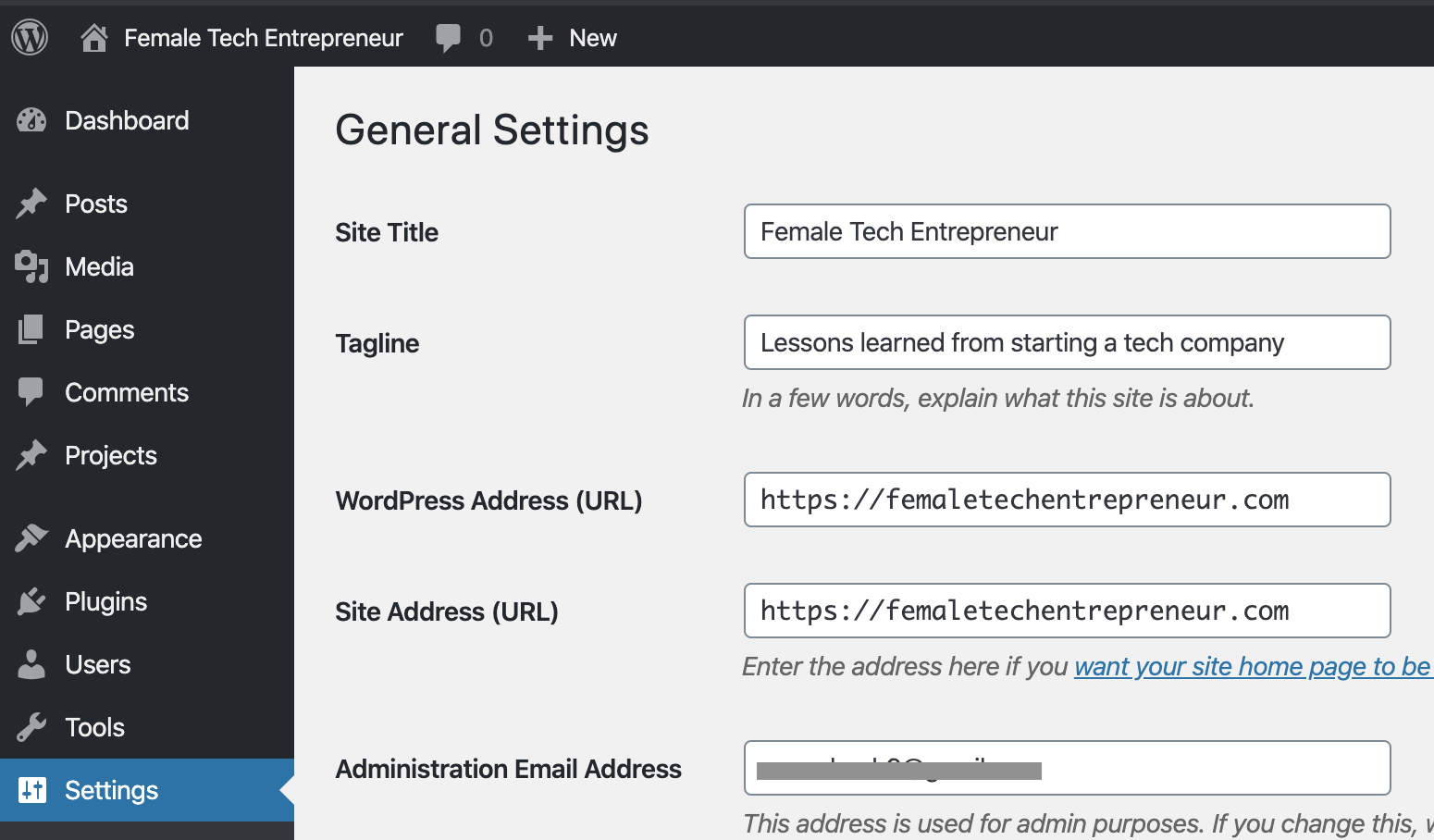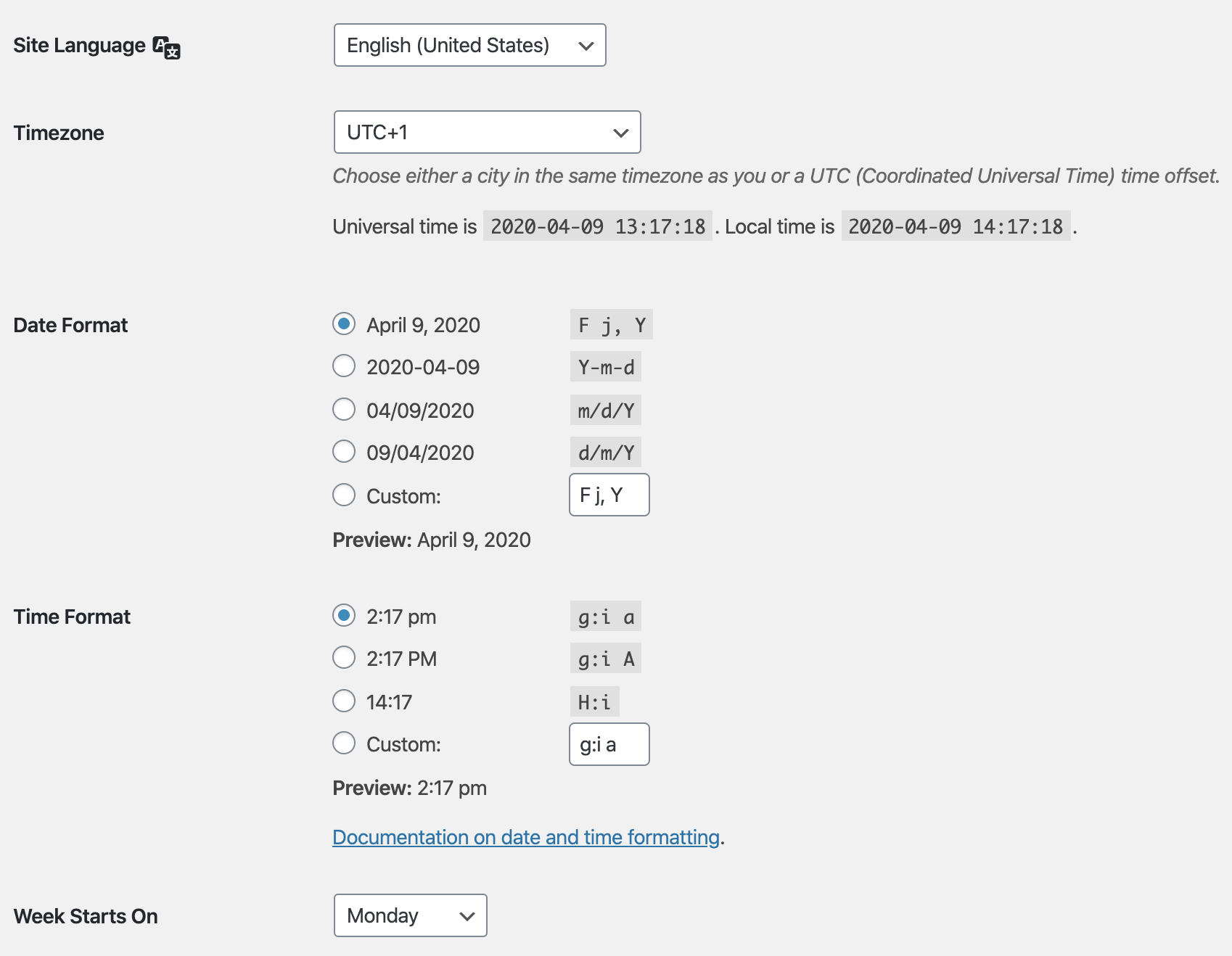 Setting WordPress Permalinks
This part is essential after installing WordPress and especially before beginning on your first post.  With WordPress's basic setting all new pages or posts at your site will have an url constructed based on your website url and the new page number

P=1 does not tell a lot about the content of your page or post and how are Google supposed to read it then?
That is why we need to change it to the post name. Go to Settings > Permalinks
Which setting you choose for your permalinks depends on the content you are planning to create. If you are a news site where the content gets outdated fast then it might be good to add date. On the other hand, if you're planning on making long lasting content that does not get out of fashion, use post name as you setting.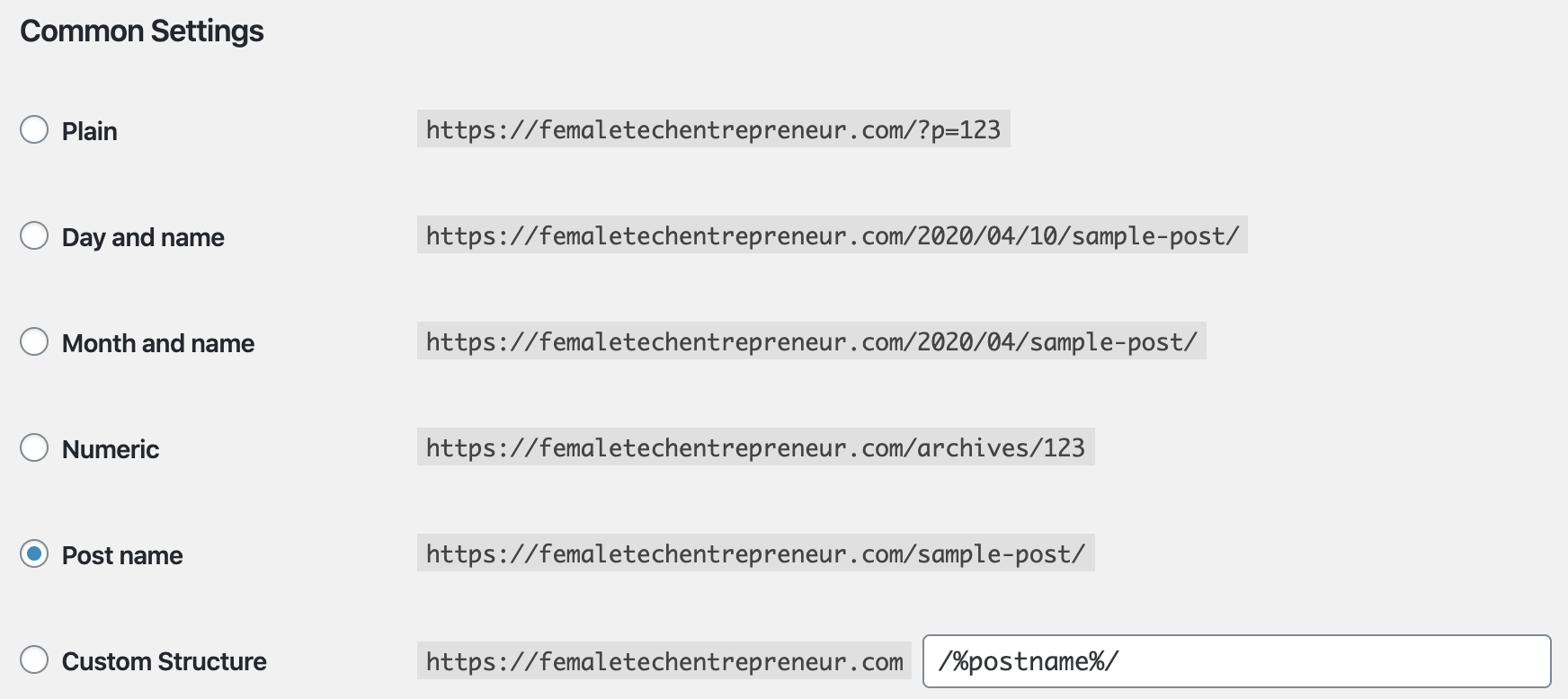 Changing the default category
You might think why you need to set a default category, can't you just set the right category when creating a new post?
Yes, that's absolutely correct! But wouldn't it be nice to have it organized nicely from the beginning? If you forget to set the category on a post, it will end up under Uncategorized right now. That doesn't look very professional, so why not change it?
Go to Posts > Categories 
Here you can add a new category. If you are planning on writing posts about multiple subjects  you might as well add all of them here or come back later. You can also add sub categories as I want for my category Technology where I want a category for each technology I'm going to be writing about.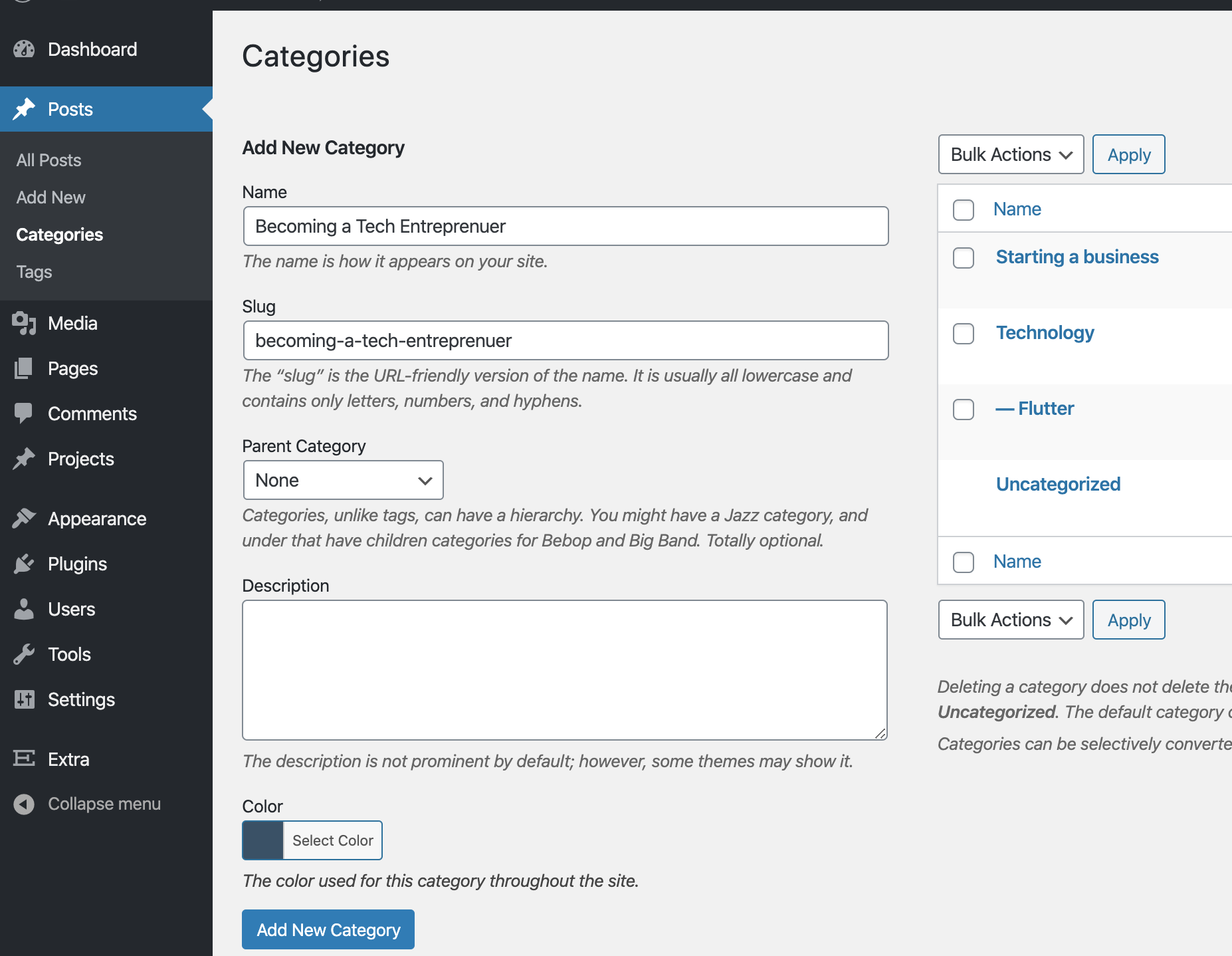 Now that you have your categories set, you can go to Settings > Writing
Here you can change you default post category to whatever you like.  I want my default category to be Becoming a Tech Entrepreneur as that's basically what all my post is going to be about.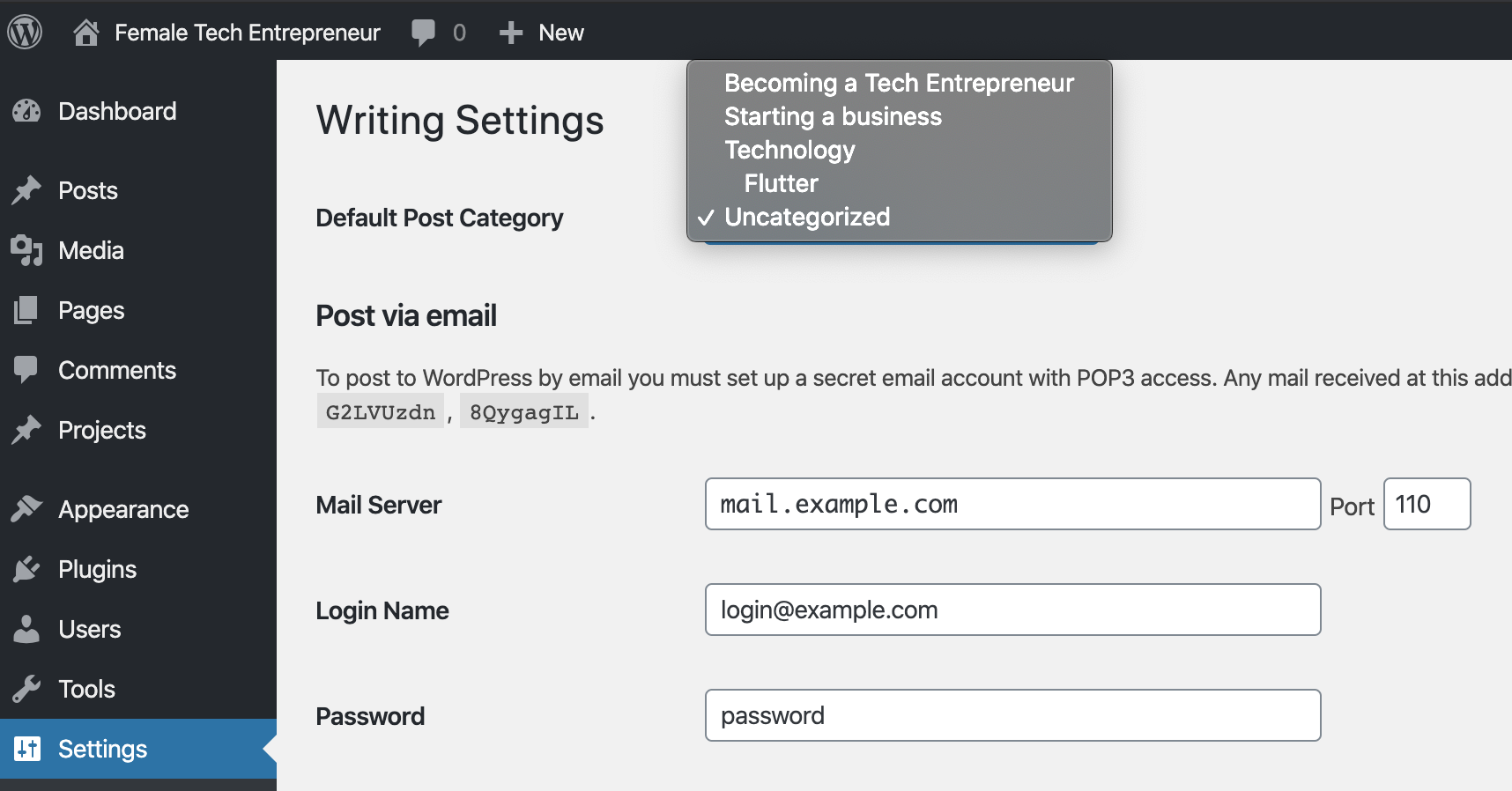 Now it's time for an important step after installing WordPress, if you want you website to be noticed by the right users. You need to think about SEO short for Search Engine Optimization. There is some basic rules when it comes to SEO, but it might become difficult to keep track of them when you are in the zone of creating great content. That's why it's a really good idea to install a plugin that can help you out.
WordPress is really SEO friendly, but with a SEO plugins you are told if you forgot a H1 heading or if your image doesn't have ALT tags etc. I have used the plugin Yoast SEO for this website and my companies website www.DecorRaid.com. I use the free version which comes with all the tools for getting started with optimizing you WordPress site for SEO. To install the plugin go to Plugins > Add New and search for Yoast SEO.
After you have installed the Yoast SEO plugin you will see a new features when editing your posts. This is pretty cool where you can add a focus keyword and keep track of your performance on meeting the SEO requirements and what to do to rank higher.
If you want to learn more about WordPress SEO techniques WPCity have wrote an awesome guide, A Complete Guide to WordPress SEO 2021 (13 SEO Techniques)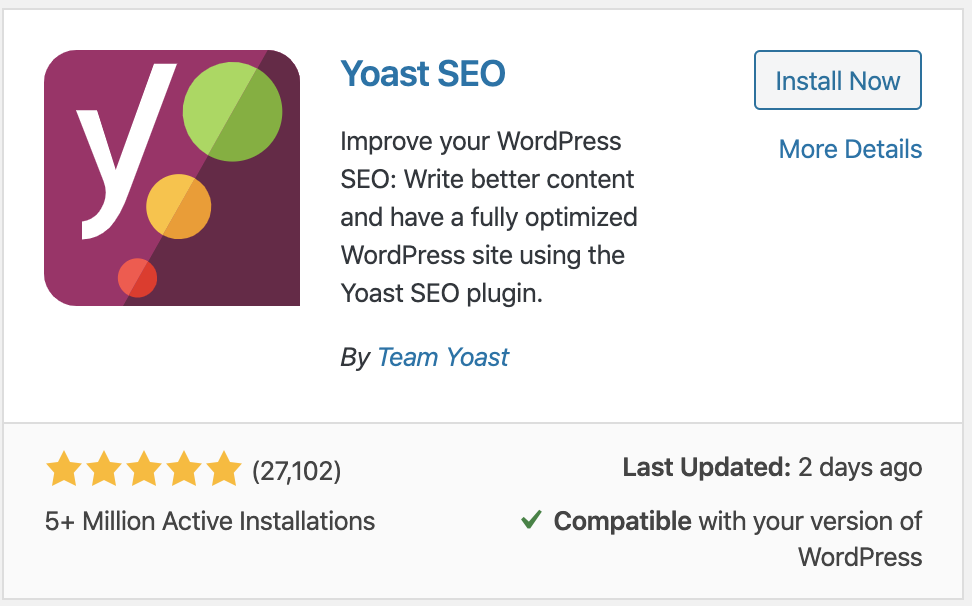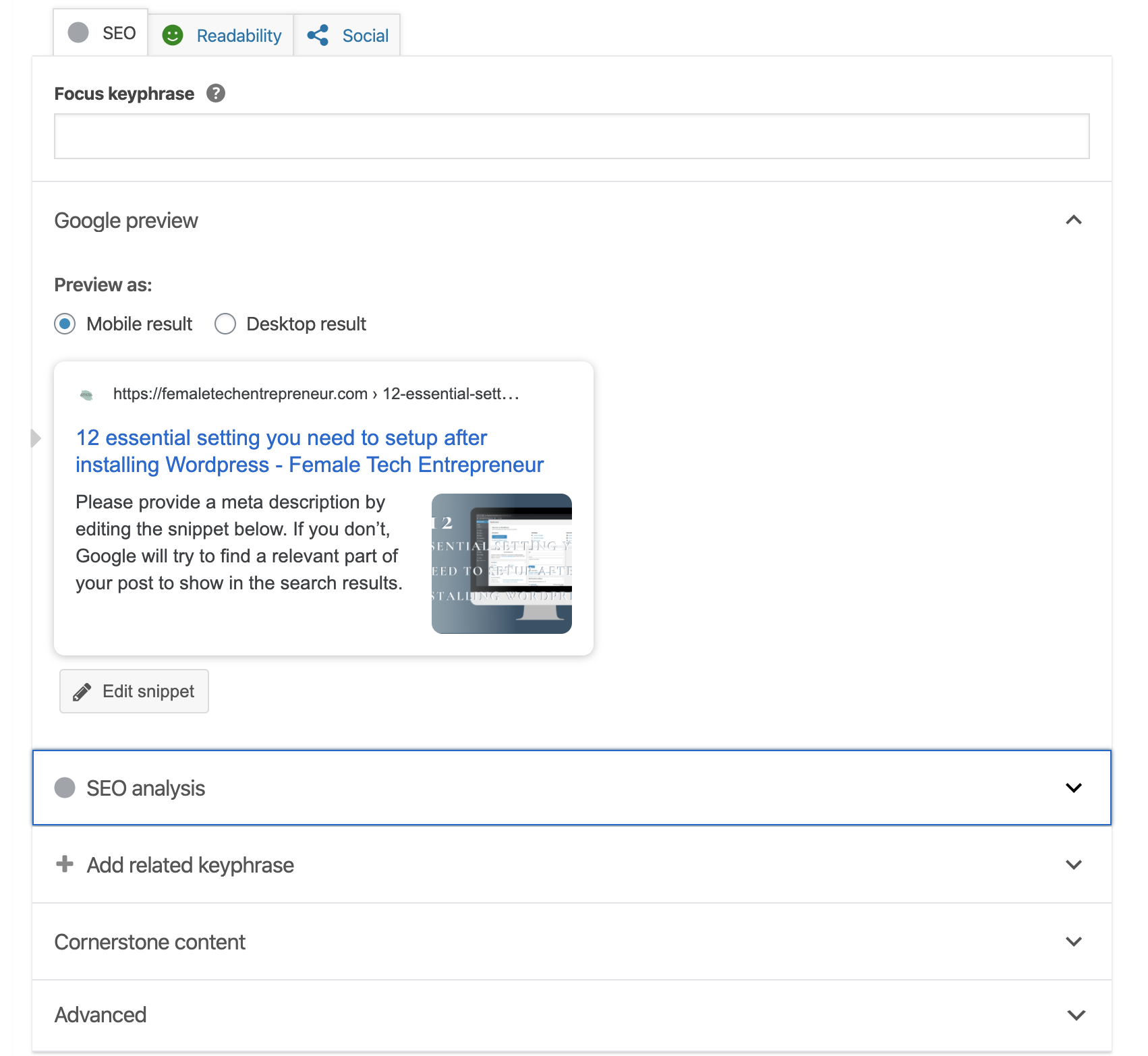 As a website owner it is essential that you get to know your audience and their behavior on your site. You might not have a lot of visitors in the beginning, but why not be able to track the performance of your work? This step I will definitely recommend you to do after installing wordpress. First, you need to set up Google Analytics for your website. Go to the link and follow the instructions. After installing Google Analytics you can install this really nice plugin MonsterInsights. With this plugin you can showcase the most important analytics right on your WordPress website.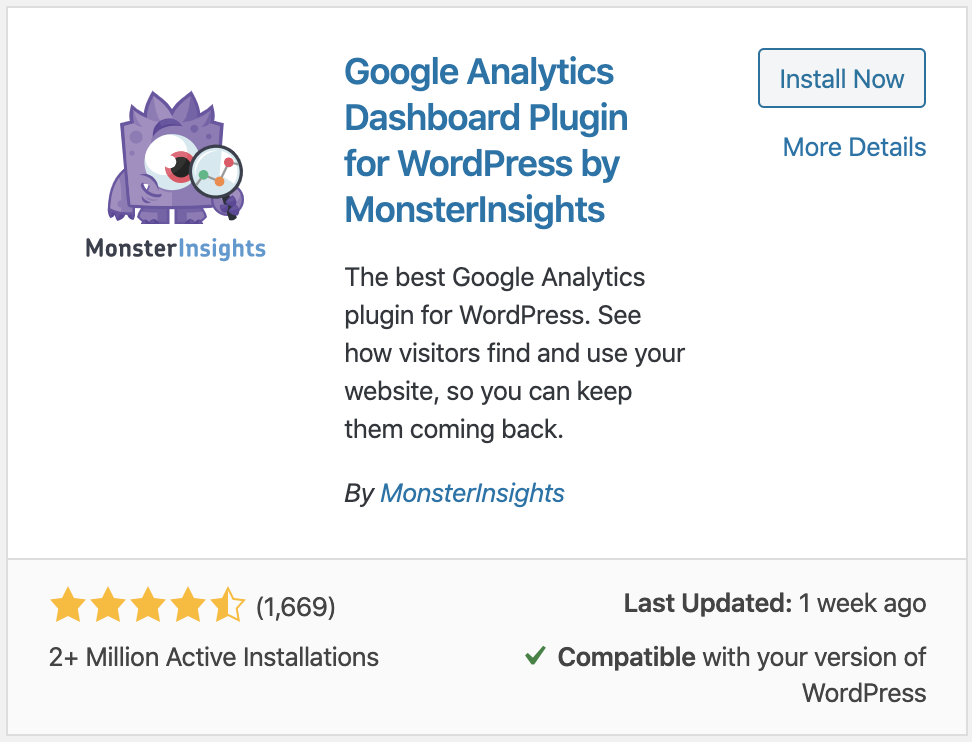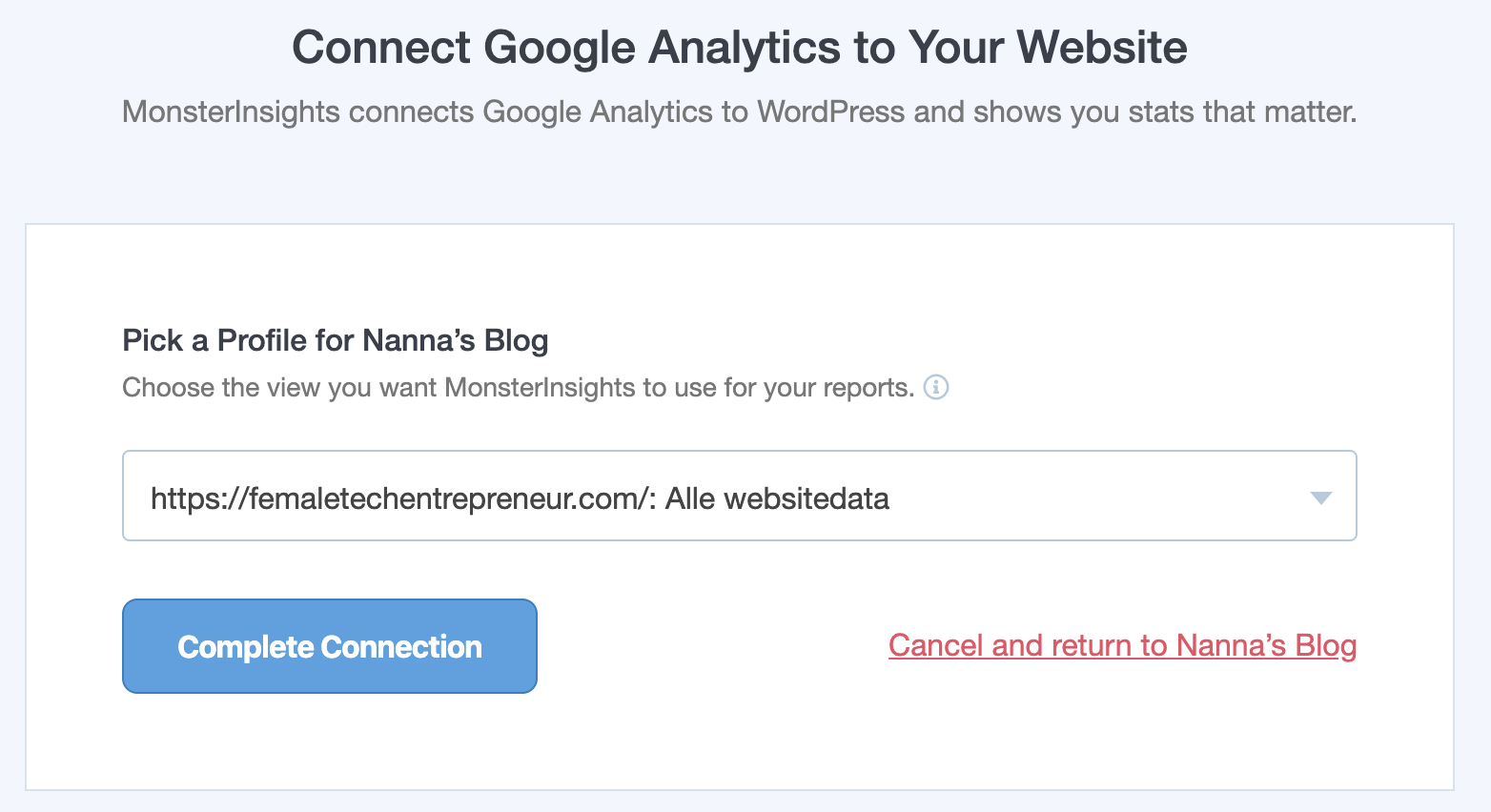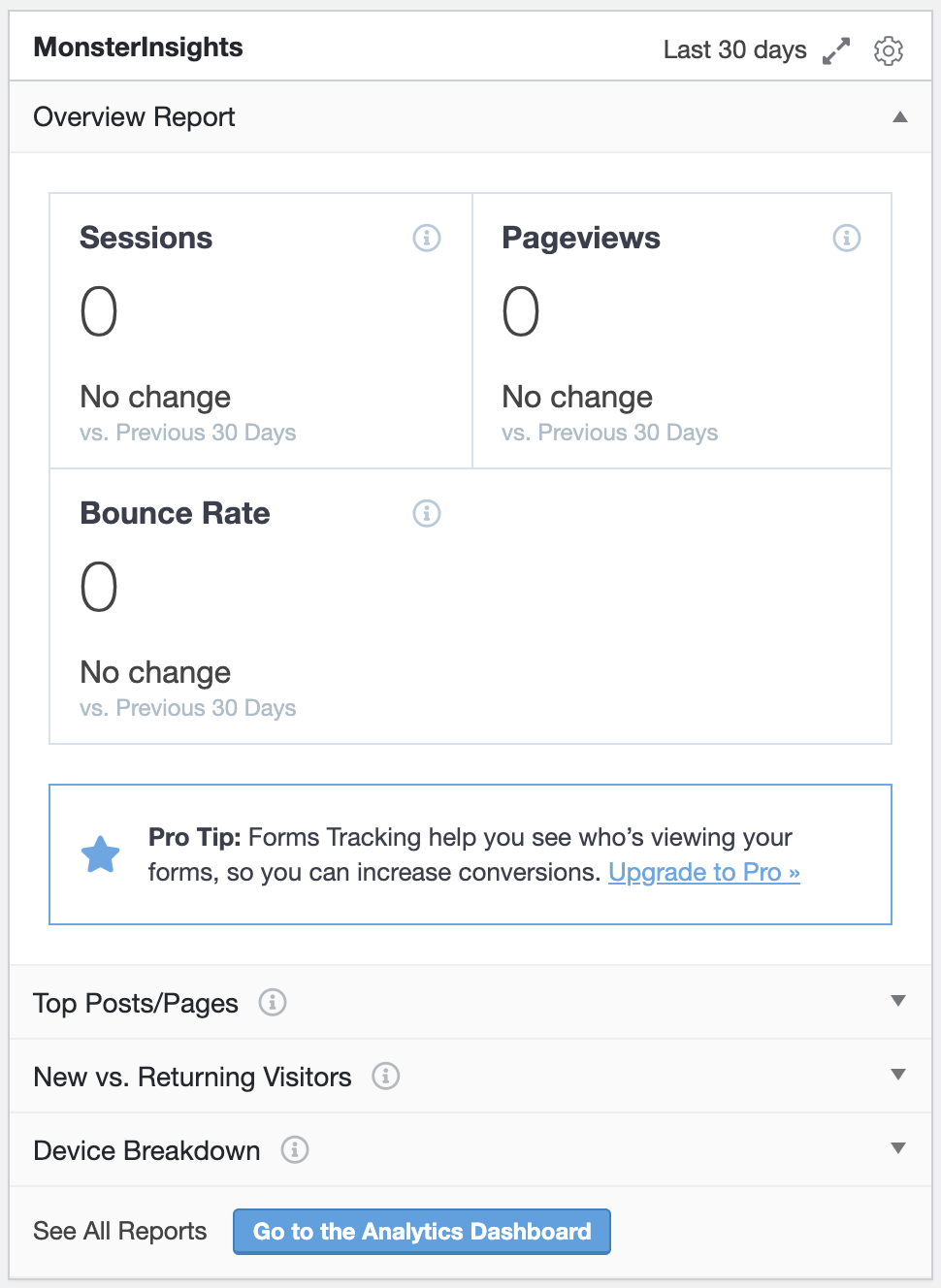 Complete your user profile
Now it's time for completing your user profile. Here you can customize the colors scheme for your own WordPress and the language. But the most important part is changing your display name, so it wouldn't display for instance Admin on all your posts. Furthermore, you can add links to your social medier account, a small biography about yourself and a profile picture.
Go to User > Your Profile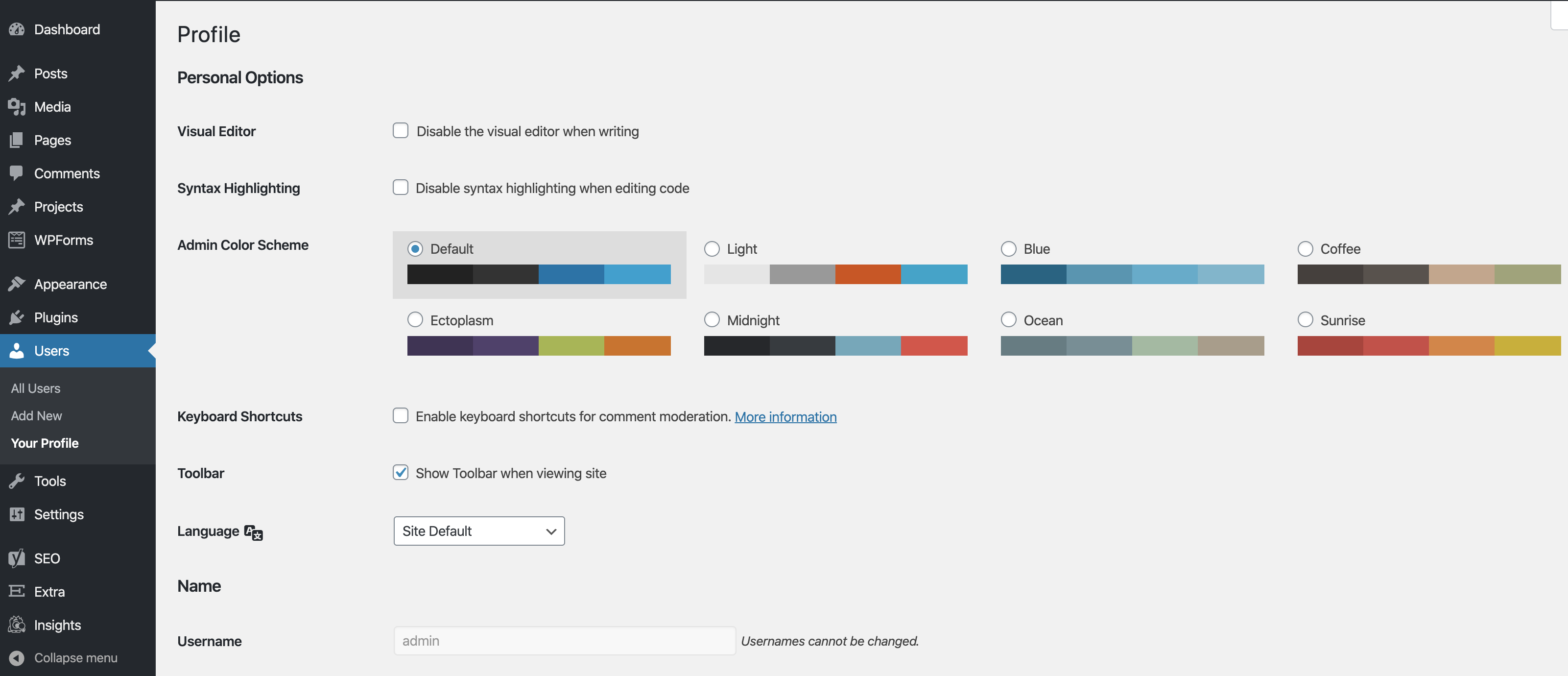 Another really cool setting is About Yourself which you will find further down the page. Here you can write a little about yourself, insert a profile picture and a color. This can for instance be used in your posts where you can add a box with ABOUT THE AUTHOR. To add a profile picture follow the link to Gravatar.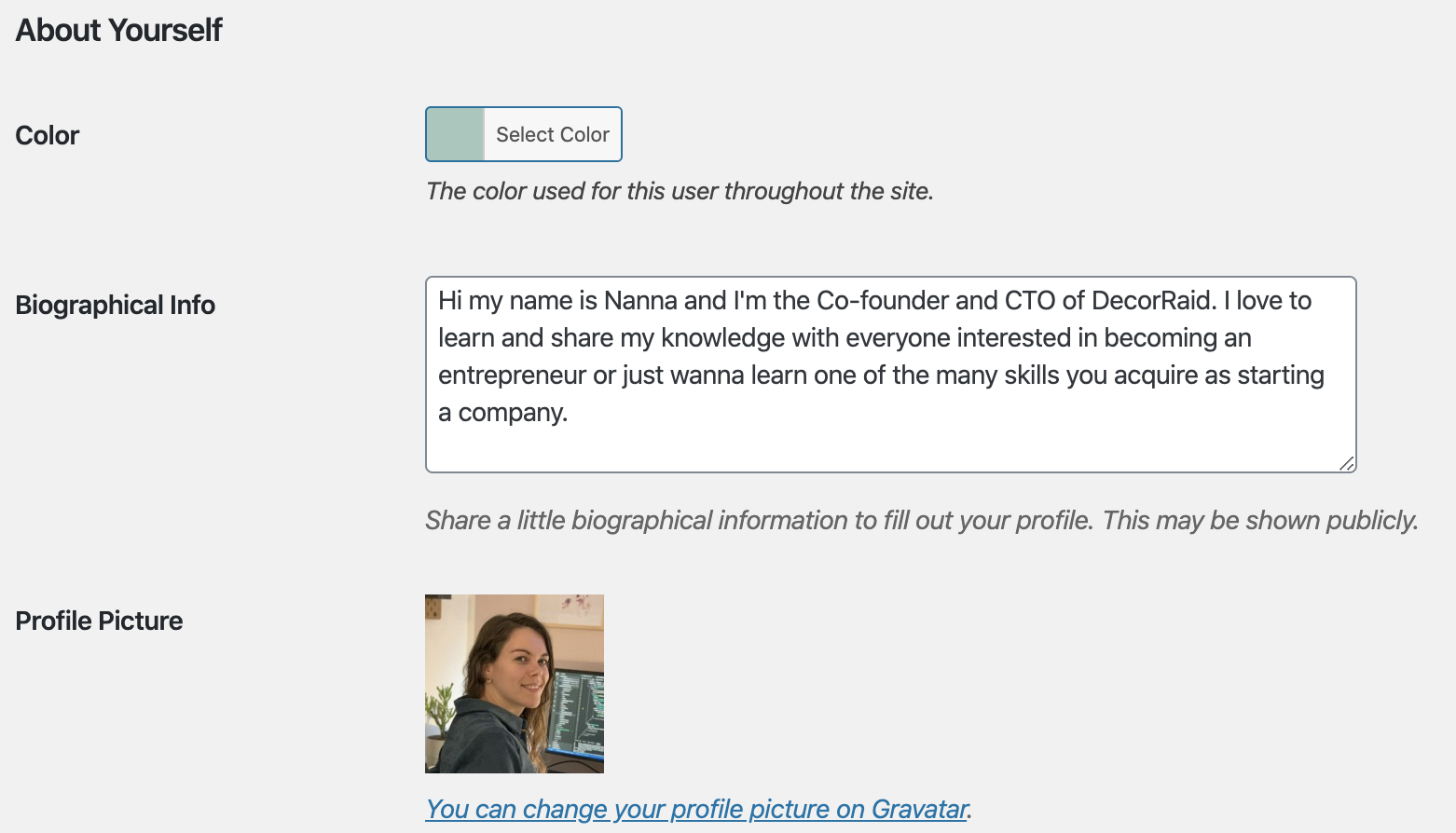 Setup you WordPress Theme
Next up is setting up you WordPress Theme. If you haven't already decided on the best theme for you website, then go to my post on How To Choose & Install A WordPress Theme. No matter what theme you choose there is some basic settings that are common for all.
Change the menus by going to  Appearance > Menus
Add cool widgets to your sidebar or menus in Appearance > Widgets 
To customize you colors and font and much more go to Appearance > Customize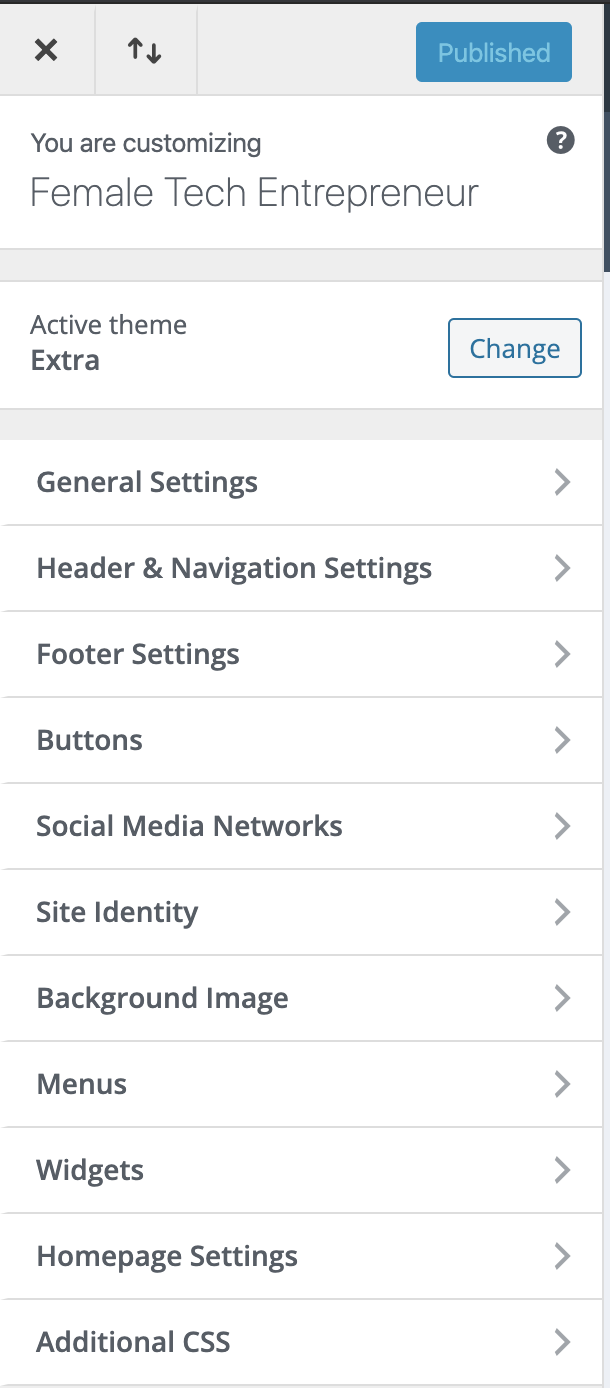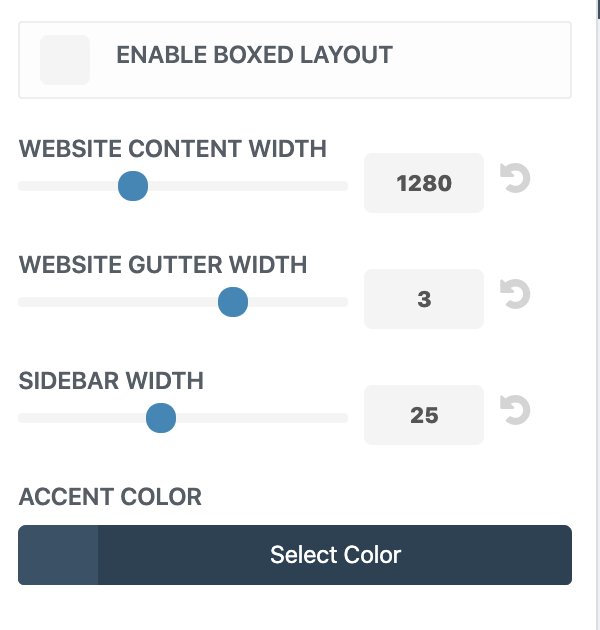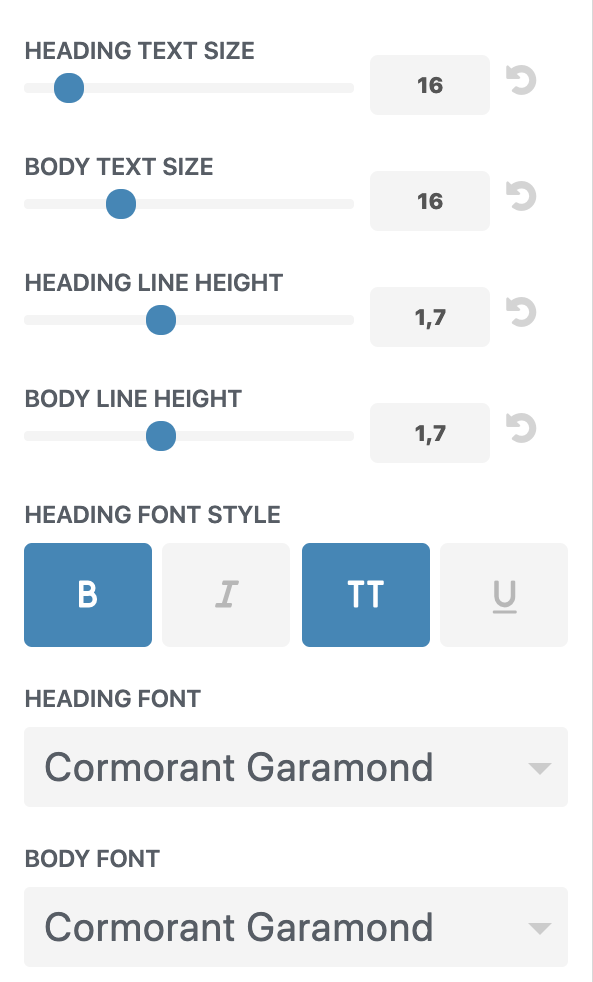 Upload favicon and site icon
Favicon or site icon is the small image that is shown next to your website title. It helps your visitors identify your website, so choose an icon that will be easily recognized. The dimension for the icon is 512 x 512 px. You can make one yourself using Canva or go to a site like icons8. Add the site icon by going to Appearance > Customize > Site Identity
In some themes you can also add it in the theme options.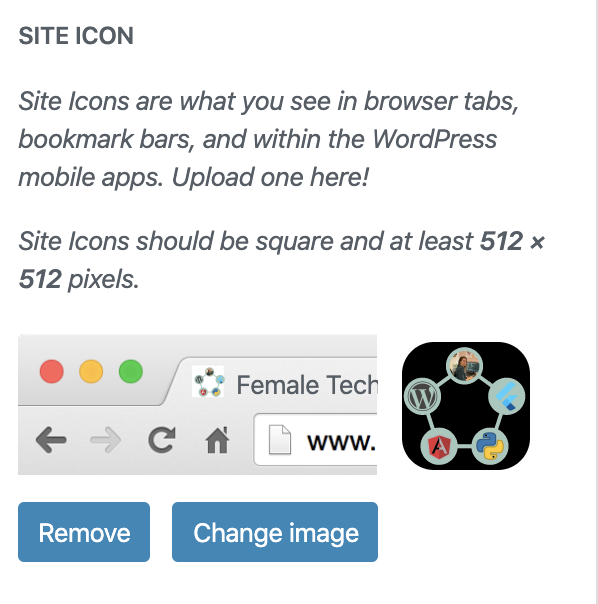 Delete unused themes and content
Now to the last step that's nice to do after installing WordPress. Deleting all default content and themes. WordPress comes with some default pages to showcase how different features work. But now that it's time to build your own customized site you should delete all unnecessary things.
Here you will find default content to delete:
Pages here you will have a default post.
Appearance > Themes here you will find preinstalled themes.
Media here you sometimes will find images that comes with the theme.
Congrets on your new website
I hope it helped you closer to your goal! 
Please rate the post below and leave a comment if you have any questions.